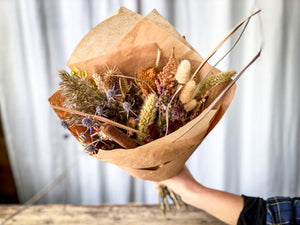 The perfect host/hostess gift, this bouquet features bronze, gold, and fluffy and textured dried blooms and seed pods to celebrate the bounty of autumn. An easy bouquet for traveling, these stems last ages beyond the holidays.

Due to the nature of grown goods, your bouquet will be true to the spirit of the bouquet featured here, and the color palette, but will not be identical.

This item is available Tuesday and Wednesday, November21st and 22nd, 2023.
Pick-up and Delivery available for qualifying zip codes: Due to the nature of weather and traffic, we cannot guarantee a timed delivery. All deliveries will be dropped off between 12pm and 5pm. If the recipient is not at home, we will leave their order outside their door with water. Please include specific notes regarding delivery (doorman, etc) in the NOTES section of the cart.

*All flowers vary based on season and availability.*