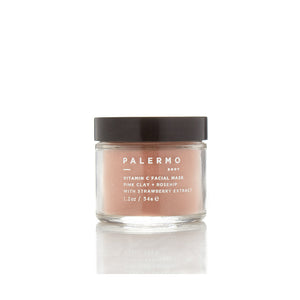 VITAMIN C FACIAL MASK - PINK CLAY + ROSEHIP
French + Australian pink clays work to tone and firm skin while gently detoxifying pores. Vitamin C rich Rosehip + Strawberry extract aid in collagen production while targeting the appearance of sun damage.
To Use: Add a teaspoon of mask powder to a small dish and add a few drops of water and stir until desired consistency is achieved. Using fingertips apply mask to face, massaging for gentle exfoliation. Allow to dry for 10-15 minutes and rinse with warm water.
This mask is in powder form so you can customize your treatment each time. 1.2 oz / 34 g Glass jar
Ingredients: french pink clay, australian pink clay, rosehip powder​*​, strawberry extract, hibiscus powder​*​, chamomile powder​*​, geranium oil
*​organic