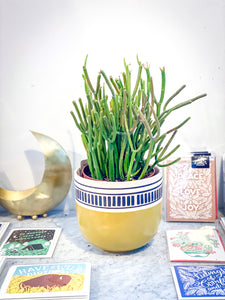 6" pot circumference.
Make a big impact with low plant maintenance.
Pencil Cacti love full sun (direct and indirect). Like most cacti, water once a week or even two weeks, and even less in the winter. Pot with cactus, or well-draining, soil.

*** Pencil Cacti are infamous for their toxic sap. When a branch of this cactus breaks, white sap leaks out that can cause irritation to the skin, and especially irritation or worse to the eye. Toxic if ingested. With all of that being said, I've personally had a pencil cactus in my living room for years with cats, dogs, and babies and toddlers, and haven't yet had a bad experience.
+ceramic not included in price